Tortilla Chips Production Line
Tortilla chips production is a complex and highly efficient process that requires precision. With the right equipment and skilled personnel, mass-producing tortilla chips can become a reality. 
For those looking to create their own line of tortilla chips, understanding the process of setting up a production line is essential. 
A successful tortilla chips production line needs modern machinery to accurately produce large quantities of the product in an efficient manner.
Tortilla chips are a beloved snack around the world and have become increasingly popular in recent years. 
To meet this demand, efficient production lines for creating tortilla chips must be put into place. 
This article will provide an overview of the processes involved in manufacturing a production line for producing tortilla chips. 
It will discuss the different components necessary to create an effective production line and how these pieces fit together to produce top-quality tortilla chips.
What is Tortilla Chips Production Line
Tortilla chips are a staple snack food in Mexico and across the globe. In order to keep up with demand for this delicious treat, an efficient production line is necessary. 
This article explores the process of creating a high-yield Tortilla Chips Production Line to ensure that tortilla chips can be produced quickly and with the highest quality. 
It will discuss the different stages involved in setting up a complete production line from start to finish, including selecting materials, equipment, layout planning and testing.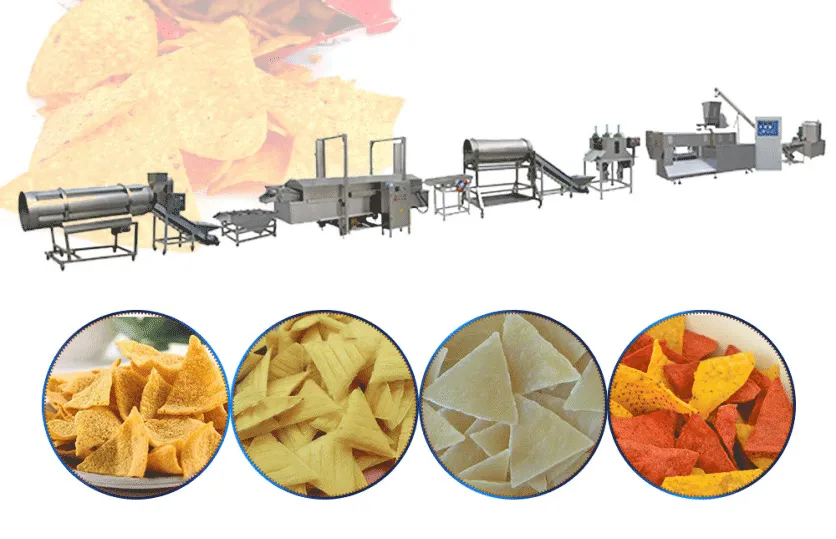 Application of Tortilla Chips Production Line
Tortilla chips production line is a great way to increase efficiency in the manufacturing of tortilla chips. This automated system helps produce a large amount of tortilla chips with minimal effort and cost, making it an attractive option for both small-scale and large-scale businesses. 
The application of tortilla chips production line involves several steps, such as preparing ingredients, mixing dough, forming dough into desired shapes, baking or frying the formed chips, seasoning them with various flavors and finally packaging them for sale. 
The automated process ensures that each step is performed quickly and accurately to achieve maximum product quality. 
The machines used in this system can be programmed according to specific requirements such as size and shape of the chip desired. 
Additionally, they can also be adjusted to apply different types of seasonings during the manufacturing process as well as adding any kind additives like preservatives or colorants .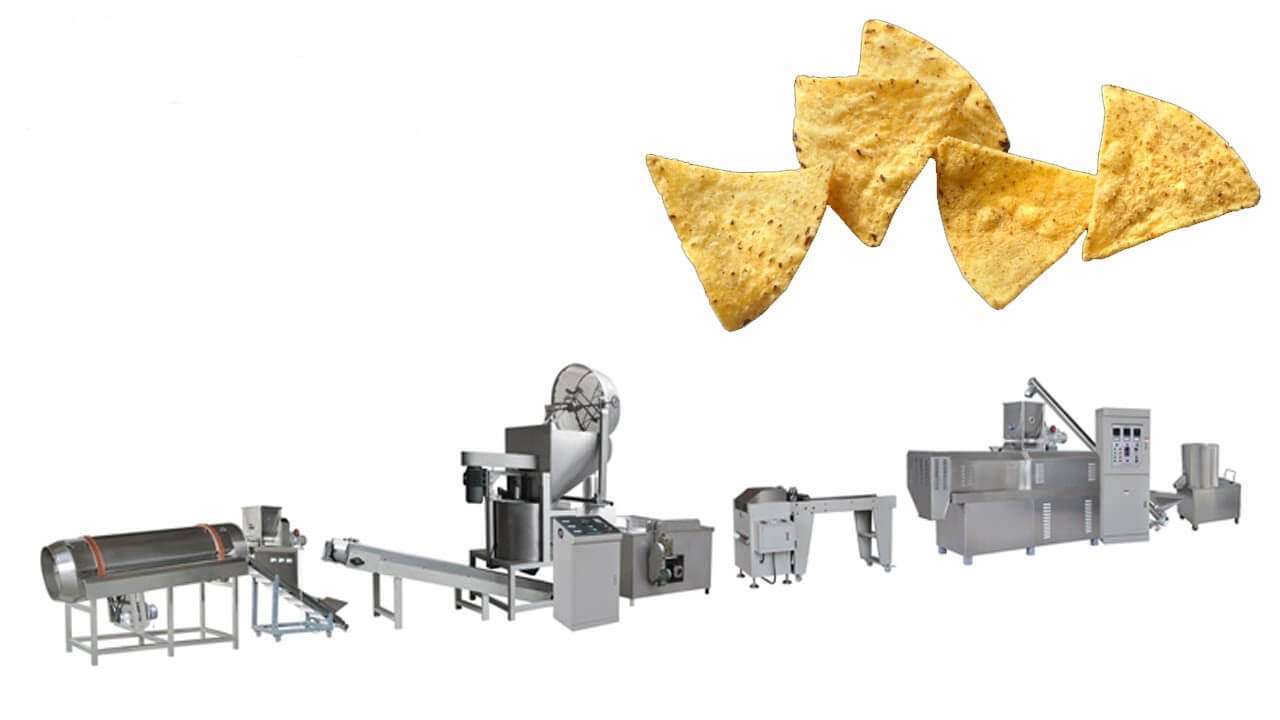 Features&
Advantages
of Tortilla Chips Production Line
Tortilla chips have become a popular snack in many countries around the world. A tortilla chips production line allows manufacturers to quickly produce large amounts of these tasty treats and deliver them to consumers in a timely manner. 
The tortilla chips production line offers manufacturers several features and advantages that make it an ideal choice for producing this snack food. 
First, it is designed with speed and efficiency in mind, as it can form, fry, season, package and distribute tortilla chips all on one continuous line. This makes it much faster than other methods of production which require multiple steps. 
Additionally, the production line is easy to use and maintain; its components are made of high quality materials ensuring reliable performance over time. 
Finally, the production line is highly customizable allowing for tailored recipes that meet customer preferences for various flavorings and textures.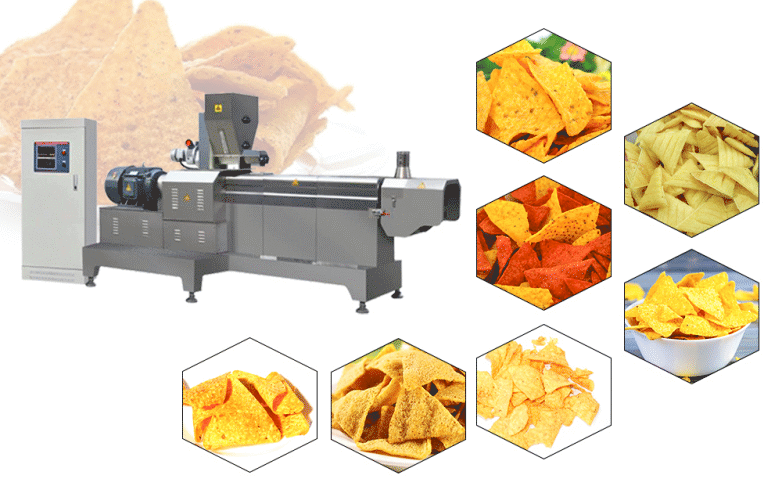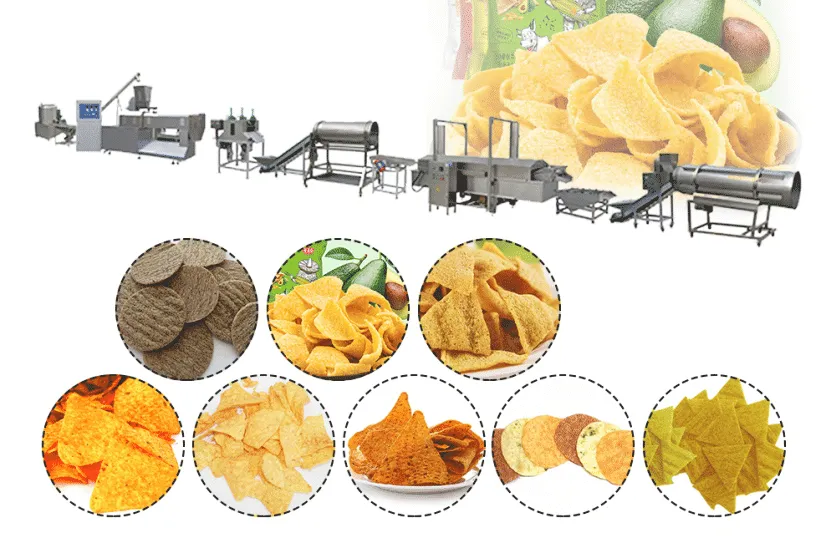 Packaging&Transportation
of Tortilla Chips Production Line
Ainuok, A Leading Feed&Food Extruder Manufacturer
Founded in 2010, Anyang Ainuok Machinery Equipment Co., Ltd is specialised in the research, development, production and sales of feed extruders and food extruders for more than 10 years.
We have got quality certifications of ISO9001, SGS, and CE etc. Machine color, logo, design, package, carton mark, manual etc can be customized!
With a production ability of 5000 sets per month, AINUOK is the largest feed&food extruders factory in China.
Feed&food extruders have been exported to England, Russia, Sweden, Poland, Romania, Malaysia, Indonesia, Vietnam etc 120 countries and districts.
Warmly welcome clients at home and abroad to visit Ainuok factory.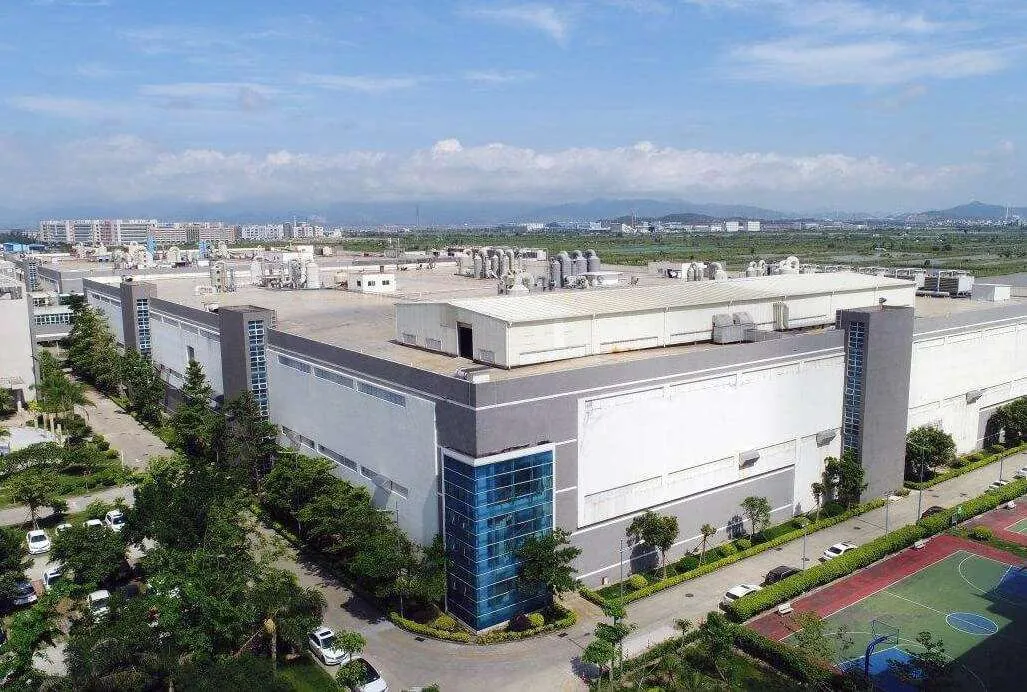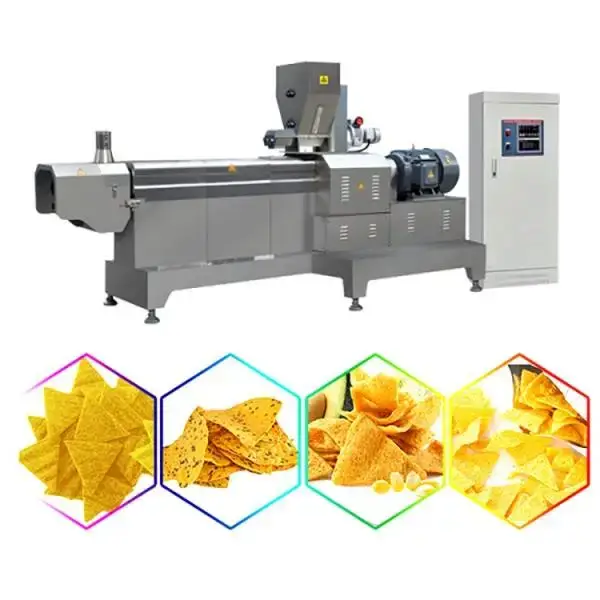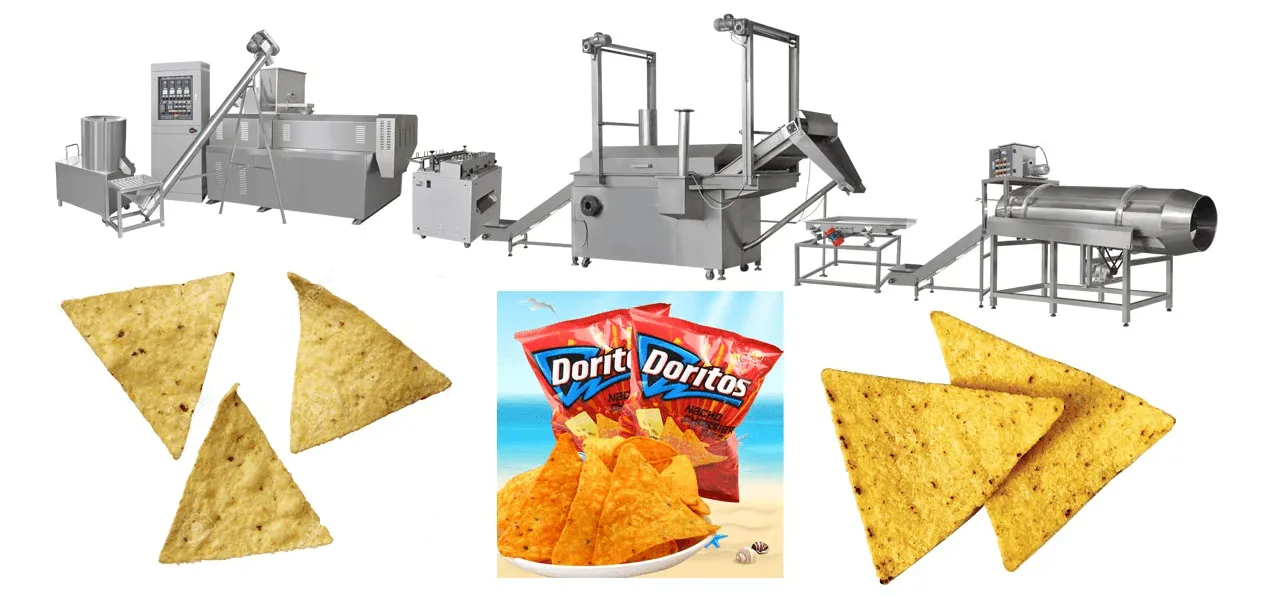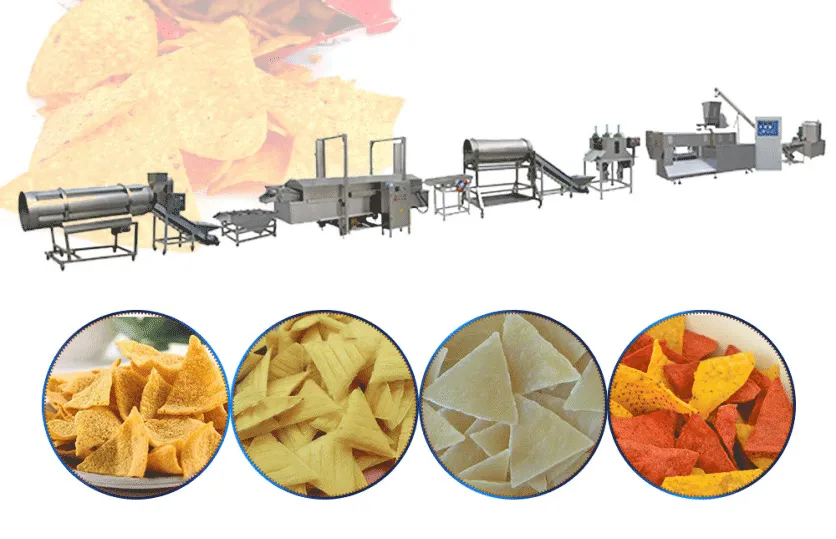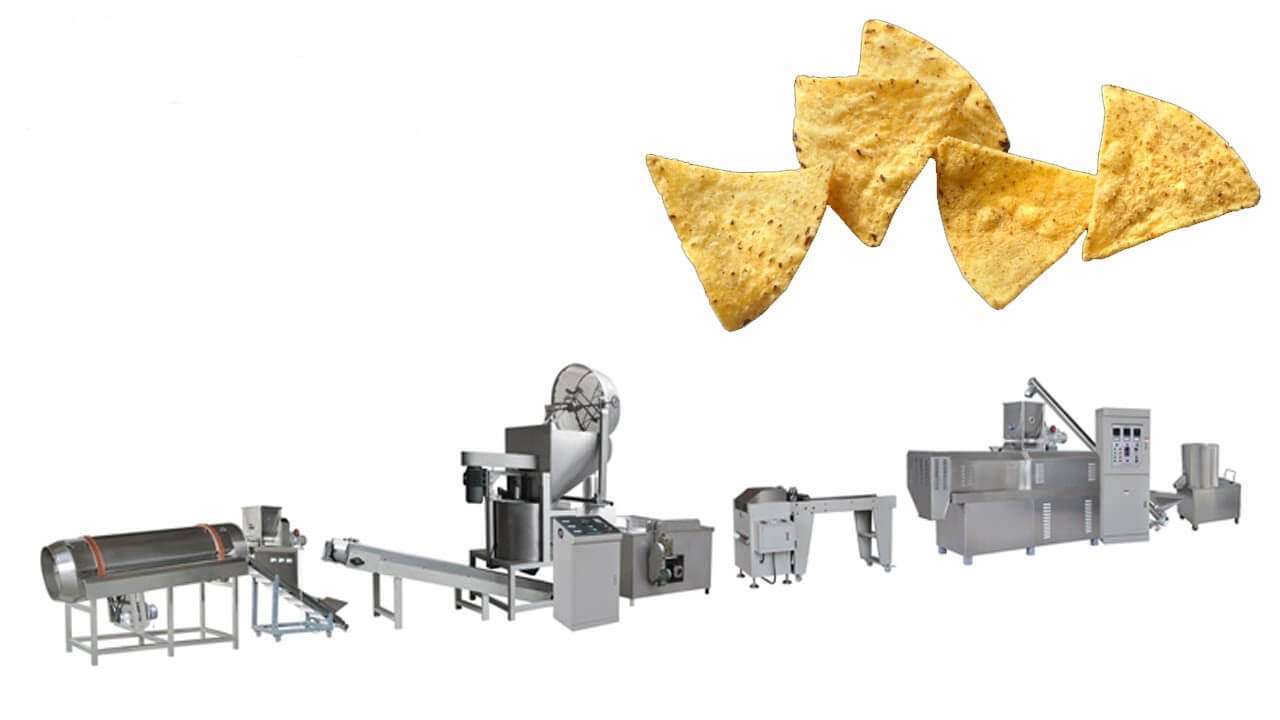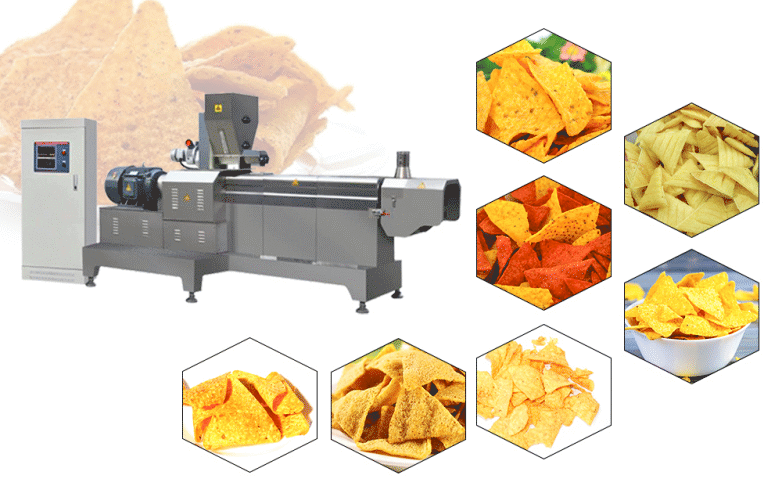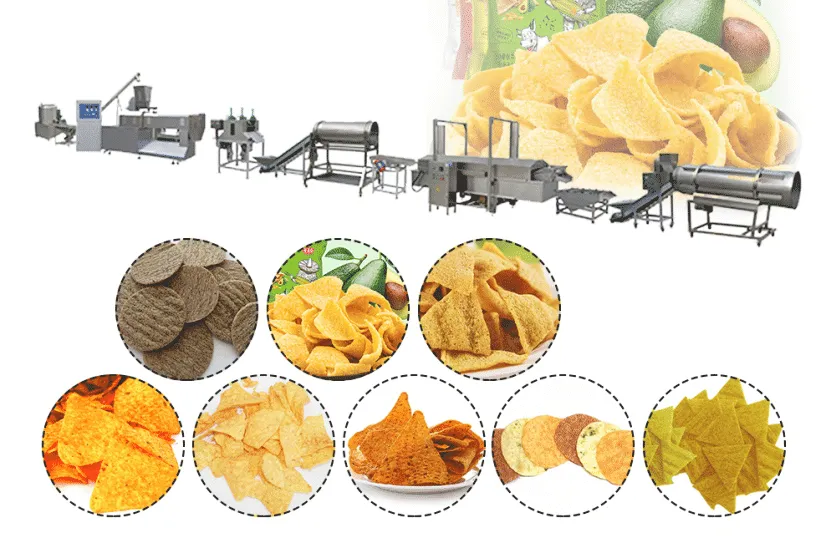 Tortilla Chips Production Line Projects
Tortilla chip production lines are becoming increasingly popular in the food industry, as they offer an efficient and cost-effective way to produce high quality chips. 
Manufacturers of tortilla chips have seen a significant increase in demand for their product, creating the need for streamlined production processes. 
As such, companies are investing in modernized tortilla chip production line projects that will allow them to keep up with the growing market. 
These projects involve installing new machinery and equipment that is able to handle large volumes of tortilla chips at a time, while still maintaining optimal safety standards. 
The introduction of automated processes also greatly decreases labor costs associated with producing these products. 
Additionally, many manufacturers choose to incorporate advanced technology into their production lines as it allows them to monitor and control every stage of the process quickly and accurately.
I recently purchased a tortilla chips production line from this company and I must say I am very impressed with the quality of the product.

It is extremely easy to use and set up, making it perfect for any small business. The product is robust and made from high-quality materials.

It produces a great quantity of chips quickly and efficiently. Overall, I'm very pleased with the product and would highly recommend it to anyone looking for an efficient tortilla chips production line.
I recently purchased the Tortilla Chips Production Line and am so glad I did.

It has made my life so much easier! The line is efficient and easy to use, and the chips it produces are delicious.

Clean up is also a breeze since there are no complicated parts that need to be disassembled.

I highly recommend this product for anyone who wants to save time and make delicious chips at home!
I recently purchased a Tortilla Chips Production Line and I'm very impressed with its performance.

The process is simple to use and produces a consistent, high-quality product every time.

The chips are always crispy and delicious! I love that the setup is easy to use and requires minimal clean up afterwards.

I highly recommend this product for any chip lover out there who wants to make their own tortilla chips at home.
FAQ of Tortilla Chips Production Line
Tortilla chips have been a go-to snack for generations, and the production line to make them is an intricate and efficient machine. From the beginning stages of making the dough to packaging it up into recognizable bags, there are several steps involved in creating these beloved snacks.
The first step in a tortilla chips production line is to mix together the ingredients for the dough – usually flour, salt, water and oil. This mixture is then spread out onto large flatbeds that flatten and shape it into thin sheets. After each sheet has been flattened accordingly, they are diced into small triangles or strips using a special cutting machine before being sent through an oven that cooks them until they're golden brown and crispy.
Tortilla chips production line machine is a must-have for any business that produces tortilla chips in bulk. Automated tortilla chip production lines can reduce labor costs, increase efficiency, and ensure consistent product quality. This equipment is designed to easily operate with minimal supervision from employees, which also helps save on labor costs.
The most important component of the tortilla chip production line machine is the forming system. It forms dough into desired shapes and sizes before they are cut into chips or strips. After cutting, they are fried or toasted depending on what type of crunchy texture is desired. The frying process ensures even cooking and prevents overburning or undercooking of the chips which could lead to an unsatisfactory end product. Finally, the finished products undergo packaging processes such as sorting, bagging and sealing for shipment to customers.

Contact now to get 2023 catalogue, prices and a big discount!