Soy Protein Machine is a revolutionary new way to experience the benefits of soy protein. It is a kitchen appliance that has revolutionized the way individuals and families can enjoy soy protein in their diets.
This modern, cutting-edge machine allows quick and easy preparation of a variety of delicious and nutritious meals with the added boost of soy protein.
Soy protein is a great source of essential amino acids and has been gaining in popularity among health-conscious individuals. 
The Soy Protein Machine provides an easy and convenient way to quickly create delicious meals and snacks from soy products. 
This article will discuss the features and benefits of using a Soy Protein Machine, how it can help you maximize the nutritional value of your food, and what kind of recipes can be made with it.
What is Soy Protein Machine
Soy Protein Machine is a revolutionary new product that enables those looking to get more protein into their diet in an efficient, convenient way. 
This handy machine has the potential to revolutionize the health and nutrition industry with its ability to extract soy proteins quickly and easily. 
By using this machine, individuals can get all of the benefits associated with consuming soy proteins, such as improved immunity and reduced risk of heart disease and certain types of cancer.
Application of Soy Protein Machine
Soy protein machines are becoming increasingly popular for their ability to quickly and easily process soy into a nutrient-dense powder with a variety of culinary uses. 
The application of soy protein machines has many potential benefits, from increased nutrition to cost savings in both the short-term and long-term. 
By using a soy protein machine, individuals can quickly process whole soybeans into highly digestible powder that can be used as an ingredient in various recipes or consumed on its own. 
Soy is naturally high in fiber and low in saturated fat, making it an ideal addition to any diet. Furthermore, because it is plant-based, it is suitable for vegan and vegetarian lifestyles. 
In addition to added nutritional value, using a soy protein machine also saves money in the long run by eliminating the need to buy pre-packaged products containing processed soy proteins.
Features&
Advantages
of Soy Protein Machine
The Soy Protein Machine is a revolutionary machine that can make soy protein powder from raw soybeans. It is ideal for health-conscious individuals looking to create their own vegan protein supplement. 
With the Soy Protein Machine, you can easily and quickly create a healthy protein source full of nutritional value without needing any special training or expertise. 
The primary benefit of the machine lies in its ability to turn raw soybeans into high-quality powder within minutes. 
The process requires only simple steps, such as grinding the beans and separating the fibers from other parts of the bean using a sieve. 
This makes it faster and easier than traditional methods that involve soaking and boiling for hours on end.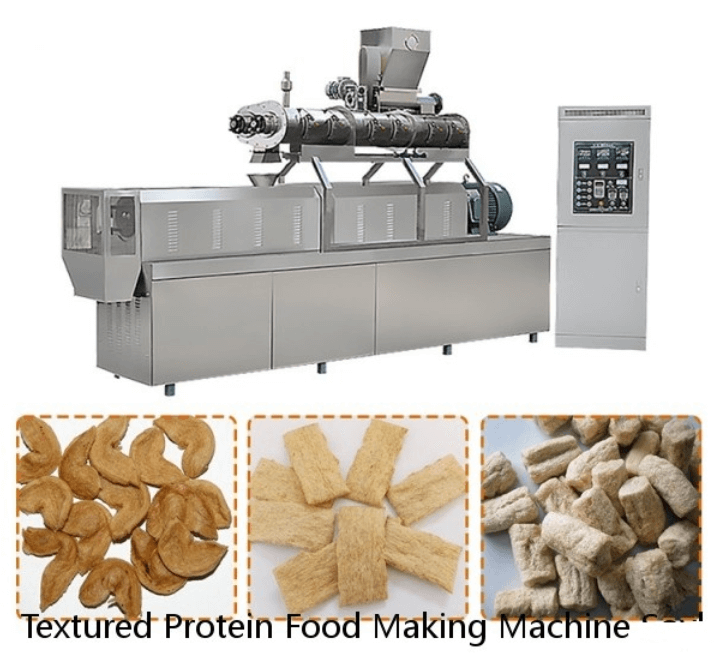 Packaging&Transportation
of Soy Protein Machine
Ainuok, A Leading Feed&Food Extruder Manufacturer
Founded in 2010, Anyang Ainuok Machinery Equipment Co., Ltd is specialised in the research, development, production and sales of feed extruders and food extruders for more than 10 years.
We have got quality certifications of ISO9001, SGS, and CE etc. Machine color, logo, design, package, carton mark, manual etc can be customized!
With a production ability of 5000 sets per month, AINUOK is the largest feed&food extruders factory in China.
Feed&food extruders have been exported to England, Russia, Sweden, Poland, Romania, Malaysia, Indonesia, Vietnam etc 120 countries and districts.
Warmly welcome clients at home and abroad to visit Ainuok factory.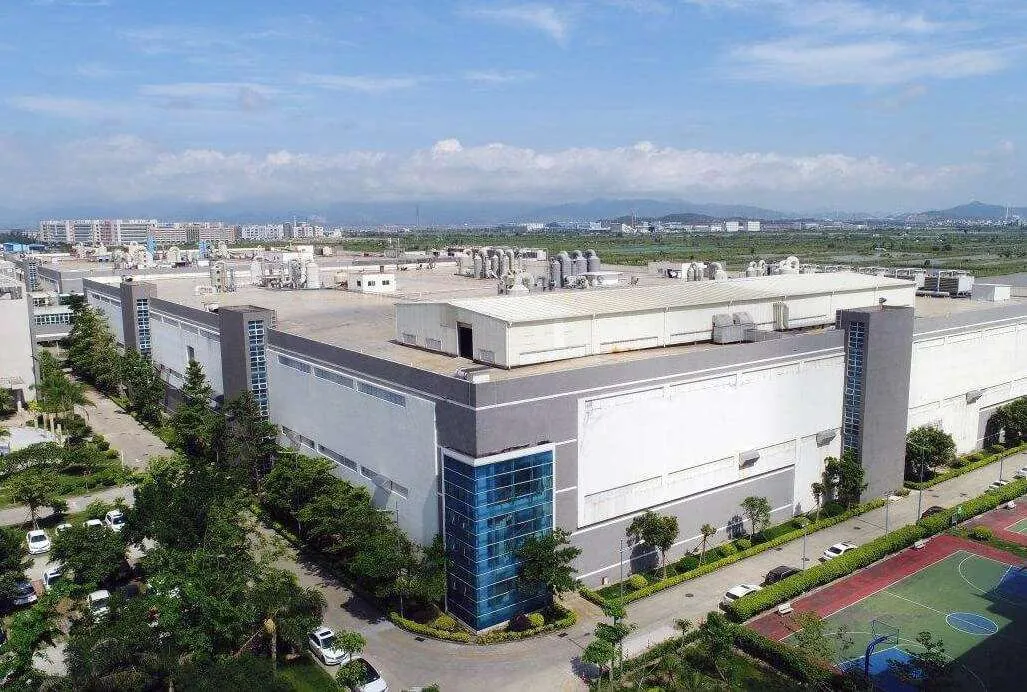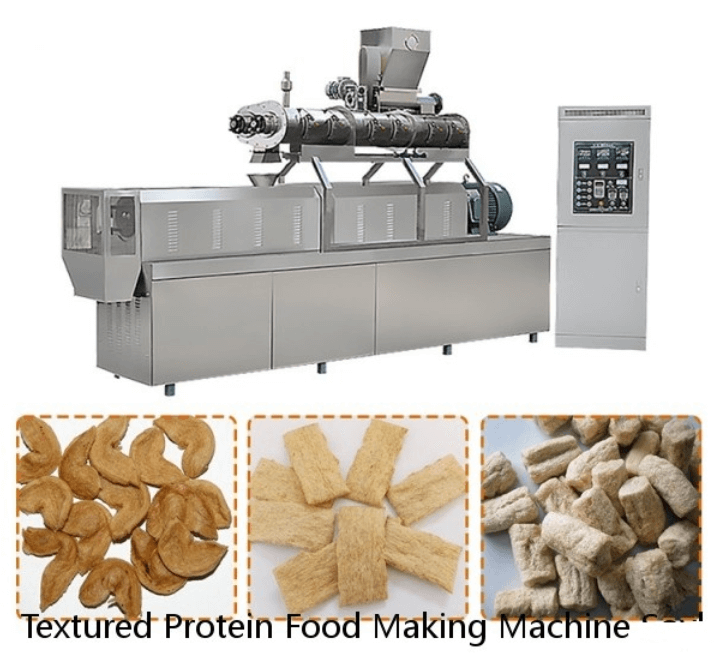 Soy Protein Machine Projects
Soy Protein Machines are creating new opportunities for entrepreneurs and small business owners. These machines offer a wide variety of products such as protein-rich snacks, shakes, bars, and more. 
With the rise of health-conscious consumers and the growing demand for plant-based proteins, soy protein machines are becoming increasingly popular.
These machines are easy to use and require minimal maintenance. They allow you to produce high-quality soy protein products in a short amount of time with little effort. 
Plus, they provide an economical way to explore different recipes without having to invest in expensive equipment or ingredients. 
Not only that, but you can also customize your own recipes with ease using different flavors, textures, and nutritious ingredients like nuts and seeds.
I recently purchased a Soy Protein Machine, and I'm so happy with my decision!

It's easy to use and makes a delicious protein-packed drink in just minutes.

The machine is also surprisingly quiet, which is something I really appreciate.

Clean up is a breeze too - just rinse the components with warm water after every use.

Best of all, it's great for on-the-go smoothies and shakes whenever I need them. Highly recommended!
I recently purchased a Soy Protein Machine and I am very pleased with the results.

The machine is easy to use and produces delicious soy protein in a short amount of time.

It's also very easy to clean so I don't have to spend too much time on maintenance.

The machine is also very durable and can handle a lot of use.

I'm glad that I chose this machine, it's been a great addition to my kitchen!
I recently purchased the Soy Protein Machine and it has been an absolute game changer!

The machine makes it so easy to make my own delicious protein rich snacks. It's simple to use, with no complicated instructions.

I'm really impressed with the quality of the product and have had no issues so far. It's great to be able to make healthy snacks without any added sugar or preservatives.

Highly recommend this product for anyone looking to make their own protein-rich snacks!
FAQ of Soy Protein Machine
Soy protein machines are becoming the go-to choice for health conscious individuals looking to upgrade their kitchen appliances. Soy protein is an excellent source of nutrition, packed with essential vitamins, minerals and amino acids. It has been linked to improved heart health, as well as a reduced risk of type 2 diabetes and some types of cancer.
A soy protein machine is a convenient kitchen appliance that makes it easy for consumers to make delicious meals with soy protein. These machines allow users to prepare dishes quickly and easily, giving them the perfect start to any meal or snack. The machine can be used in a variety of ways; from making smoothies and shakes, to stir-fry dishes and more. Regardless of how it's used, the machine produces delicious meals with all the nutritional benefits that come from soy proteins.
Soy protein munt machine is the latest in dietary technology. This innovative machine is designed to help you make delicious munt snacks from soy protein, with no need for additional ingredients or added fat. Developed by a team of nutritionists and food scientists, this revolutionary product helps to create custom-made snacks that are both healthy and tasty.
The soy protein munt machine is easy to use; simply add your favorite type of soy protein powder and press the "start" button. Within minutes, you will have delicious munt snacks that can be enjoyed anytime! No more processed foods or unhealthy fats – just all-natural, nutrient-rich snacks made with natural ingredients. The soy protein munt machine also includes a variety of recipes so that you can experiment with unique flavors and combinations according to your preference.
Soya protein making machine is an innovative new way to produce high-quality soya protein. This machine provides a convenient and efficient way for users to create a wide variety of products ranging from meat replacements, textured vegetable proteins and soy milk. It is suitable for small businesses as well as large enterprises that require large quantities of soya protein in their production process.
The soya protein making machine uses highly advanced technology to automatically separate the fibrous material from the oil, starch and other elements found in soybeans. The resulting soya protein powder can be immediately used or stored for later use. This makes it easier than ever before to quickly produce high-quality vegan-friendly food products with minimal effort required on behalf of the user.

Contact now to get 2023 catalogue, prices and a big discount!