Cheetos making machines are revolutionizing the snack industry. These innovative devices allow people to make their own delicious, crunchy Cheetos in the comfort of their own home. 
Cheetos making machines can be used to create a variety of flavors and textures, from classic cheddar-flavored treats to wilder creations such as spicy jalapeno or garlic parmesan.
Cheetos have been a popular snack food for generations. Now, with the invention of the cheetos making machine, it is easier than ever to make your own delicious homemade cheetos from scratch. 
This innovative machine takes all the guesswork out of making cheetos and allows users to create their own unique flavors and textures in just minutes. From savory cheddar cheese to spicy jalapeno pepper, the possibilities are endless.
What is Cheetos Making Machine
Cheetos making machines are becoming increasingly popular for both commercial and home use. 
As one of the most beloved snacks around the world, Cheetos have been a hit with kids and adults alike. 
With this new invention, you can make your own Cheetos right at home or in a commercial setting. 
Making your own Cheetos has never been easier or more enjoyable. 
This article will provide an overview of cheetos making machines, their benefits, and how to use them.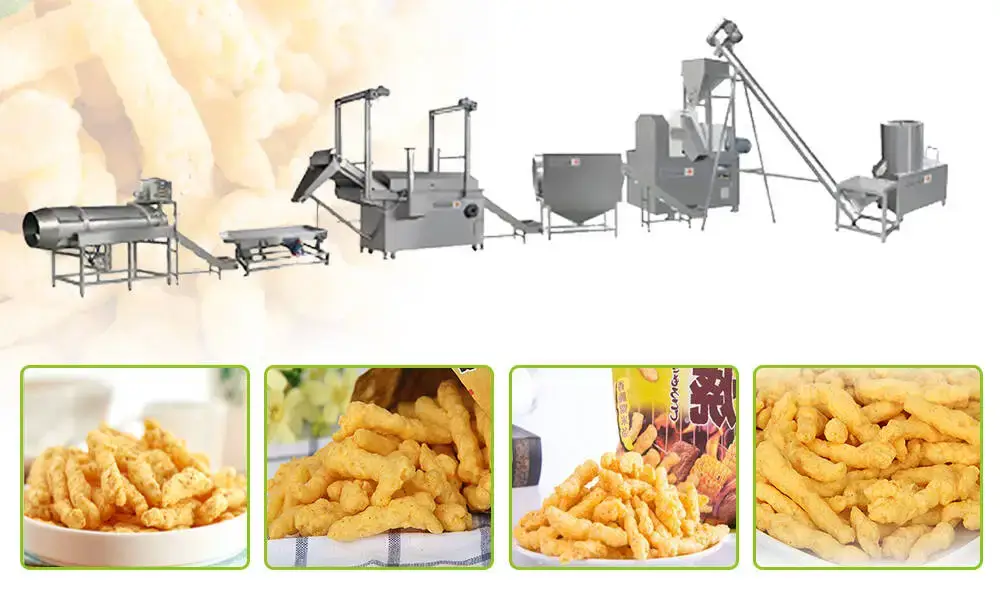 Application of Cheetos Making Machine
Cheetos making machines have been increasingly popular for businesses looking to create the iconic cheese-flavored snack. 
These machines are designed to simplify the process of making cheetos from start to finish, allowing owners to quickly and easily create batches of this beloved snack.
 Here, we'll discuss the various applications of a cheetos making machine and how businesses can benefit from investing in one. 
The first application for a cheetos making machine is that it can be used in retail settings, such as convenience stores and supermarkets. 
Not only will this allow them to offer customers freshly made cheetos right off the shelf, but they'll also benefit from increased sales due to customers' preference for fresh snacks over packaged ones.
Features&
Advantages
of Cheetos Making Machine
Cheetos Making Machine is a revolutionary new tool for snack lovers everywhere. 
It makes the process of making delicious Cheetos snacks easy, quick and hassle-free. 
This machine has many features and advantages that make it unique from other machines on the market. 
The most notable feature of this machine is its ability to shape the Cheetos into all sorts of fun shapes and sizes with just a few simple adjustments. 
With this machine, customers can create their own unique homemade snacks in minutes. 
Moreover, it comes with an adjustable timer that allows users to control how long they want their snacks to cook for maximum flavor and crunchiness without having to monitor them every step of the way.
Packaging&Transportation
of Cheetos Making Machine
Ainuok, A Leading Feed&Food Extruder Manufacturer
Founded in 2010, Anyang Ainuok Machinery Equipment Co., Ltd is specialised in the research, development, production and sales of feed extruders and food extruders for more than 10 years.
We have got quality certifications of ISO9001, SGS, and CE etc. Machine color, logo, design, package, carton mark, manual etc can be customized!
With a production ability of 5000 sets per month, AINUOK is the largest feed&food extruders factory in China.
Feed&food extruders have been exported to England, Russia, Sweden, Poland, Romania, Malaysia, Indonesia, Vietnam etc 120 countries and districts.
Warmly welcome clients at home and abroad to visit Ainuok factory.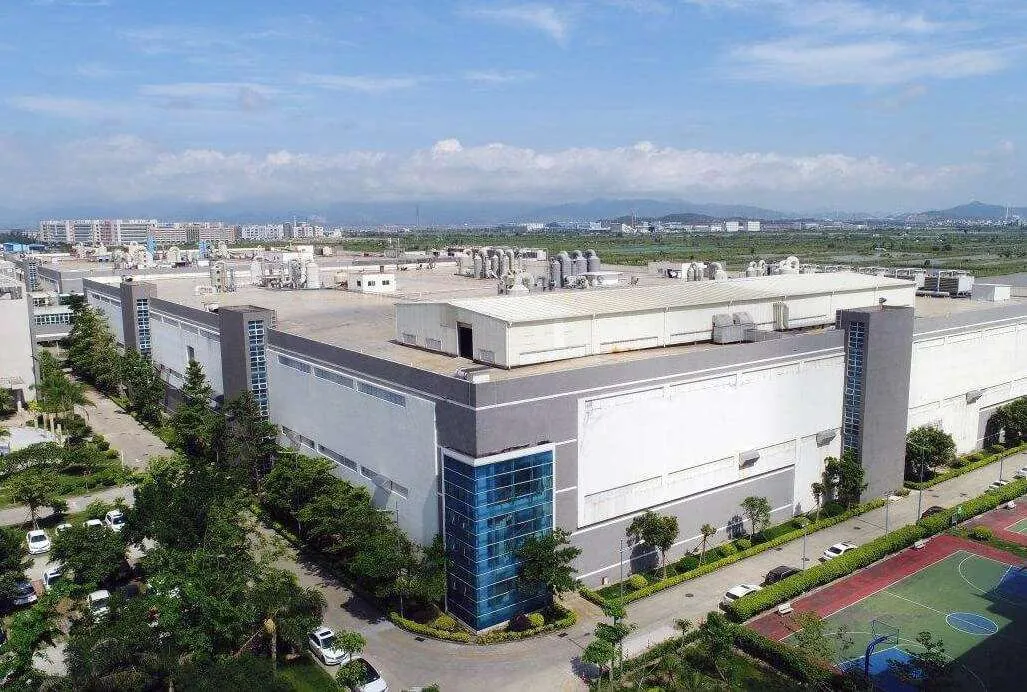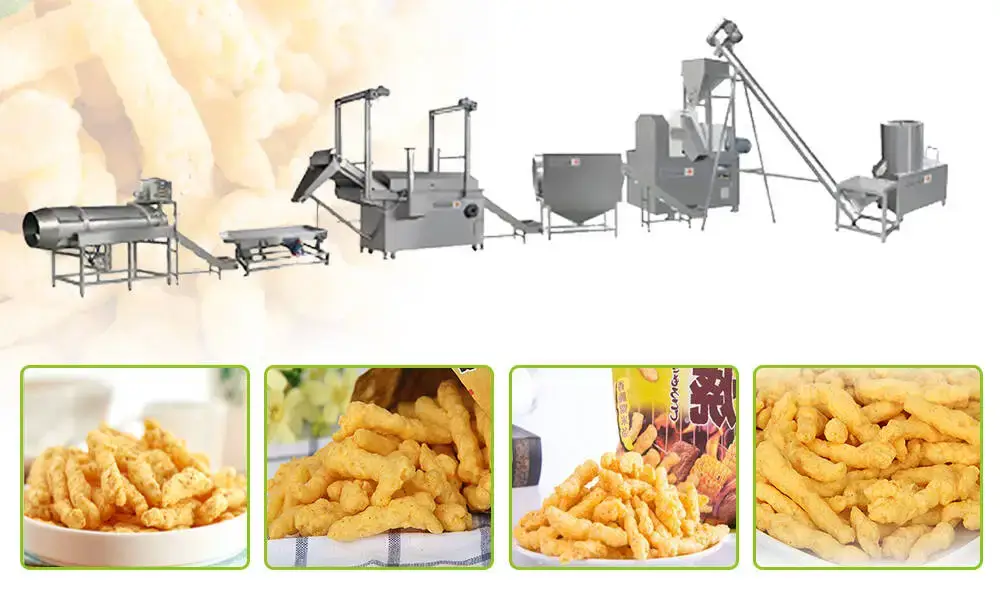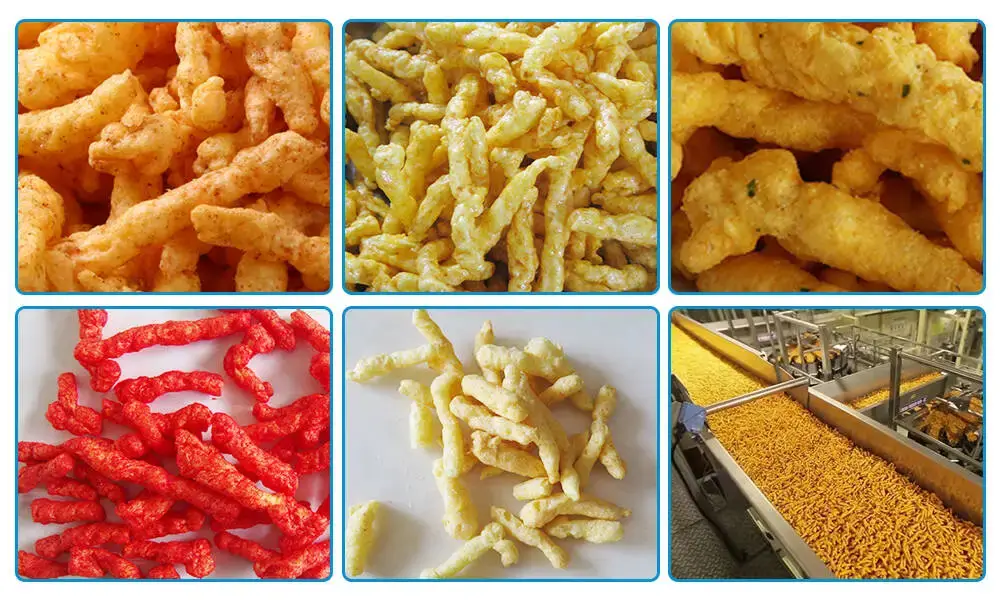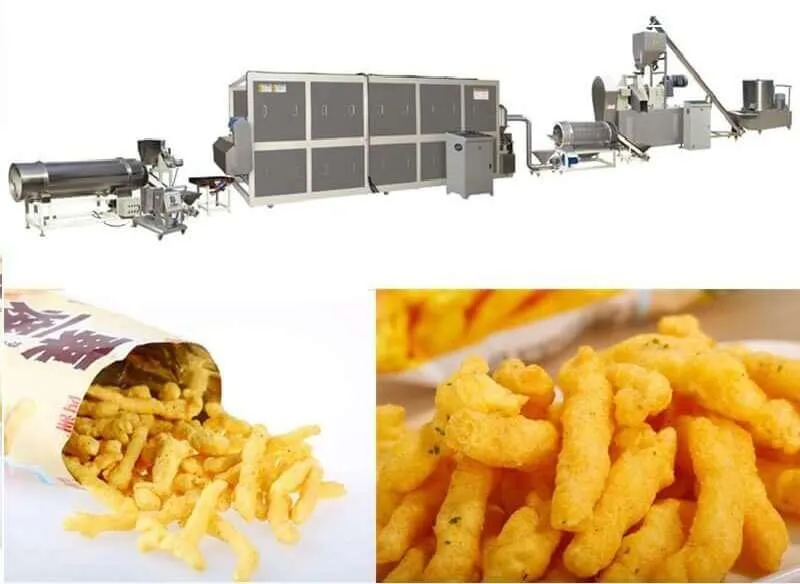 Cheetos Making Machine Projects
Cheetos are a beloved classic snack that you can now make from the comfort of your own home! With the help of cheetos making machine projects, creating delicious crunchy snacks is easier than ever.
These projects allow you to create custom cheetos in different shapes and sizes. 
You can experiment with flavors, colors, and textures to find the perfect combination for your homemade snack. 
Additionally, these machines are cost-efficient and easy to use; all you need is some ingredients and an innovative spirit!
By using a cheetos making machine, you can make sure that every chip or puff is cooked perfectly without having to constantly check it in an oven. 
Plus, you have complete control over what's going into each batch — so there's no worry about unhealthy additives or preservatives. So go ahead: get creative with your snacks today!
I recently purchased a Cheetos Making Machine and it is one of the best investments I have ever made!

It is so easy to use and makes delicious Cheetos in no time.

The machine comes with all of the necessary ingredients to make perfect Cheetos every time.

I love that it is so simple to use and I can enjoy homemade Cheetos whenever I want. The cleanup is a breeze, too!

Highly recommend this machine for anyone who loves the classic snack.
I recently purchased a Cheetos Making Machine and I am so glad I did!

It's incredibly easy to use and produces delicious, cheesy Cheetos in no time. Clean up is a breeze, too - all I need to do is give it a good wipe down after use.

The machine also doesn't take up too much counter space, which is great for those of us with smaller kitchens.

Highly recommend this product if you want to make homemade Cheetos!
I recently purchased a Cheetos Making Machine and I'm so impressed!

It is so easy to use and makes perfect Cheetos every time. The machine is well made and I love the sleek design.

It comes with a variety of shapes and sizes, so you can make whatever kind of Cheetos you like!

Cleanup is a breeze - no messes to worry about.

Highly recommended for anyone looking to make their own delicious homemade Cheetos!
FAQ of Cheetos Making Machine
Cheetos Making Machine is the latest invention to revolutionize snack food production.
This incredible machine allows users to make their own Cheetos in a fraction of the time it would take using traditional methods.
Not only does this save time, but it also cuts down on costs for snack producers and consumers alike.
The Cheetos Making Machine is a fully automated system that can produce up to 48 bags of Cheetos per hour. It combines the process of frying, seasoning, and packaging in one streamlined operation.
The machine features an easy-to-read digital control panel, making it simple to adjust parameters such as temperature and cooking time.
Additionally, the system will alert you when ingredients start running low so you can restock quickly and keep production going smoothly.
Cheetos Making Machine Factory is an innovative factory that is revolutionizing the industry of snack food production.
Located in the industrial city of Anytown, the factory has been in operation for more than 20 years and is responsible for producing over 1 million bags of Cheetos each year.
The factory produces a wide range of snacks ranging from chips to pretzels, but their signature product are undoubtedly the Cheetos.
The process starts with raw materials such as corn meal being combined with flavorings and other ingredients to create dough that is then cooked and cut into individual pieces before being sent through automated conveyor belts where it is fried, seasoned and packaged into bags ready for sale.
The entire process requires state-of-the-art machinery and software that helps monitor every stage to ensure quality control standards are met at all times.
Cheetos making machine manufacturer is an industry that manufactures innovative and efficient machines to produce the well-known snack.
Cheetos are a popular snack, which are produced by many famous companies like Frito-Lay, but it also provides opportunities for smaller businesses to enter the market and develop their own production line.
The cheetos making machine manufacturer produces custom-made equipment that can be used for producing different shapes, sizes and flavors of cheetos.
The manufacturing process requires a high level of precision in order to ensure the end product is of consistent quality.
The machines need to be designed with safety features in mind and must meet stringent food safety standards set out by regulatory bodies such as the U.S Food & Drug Administration (FDA).

Contact now to get 2023 catalogue, prices and a big discount!